USB-C
Quick Nav
General use
You will need a USB-C cable to charge your card10. You can also use it as a storage device to read/write files and update software. We plan to provide most of these functions via BLE as well, but a wired connection might still come handy. The charging and file transfer works whichever way round the USB-C cable is plugged in.
Full I/O
Traveler reports agree that the badge uses USB-C, the assumption is that this was chosen over Micro-USB for the available range of extra pins. The reconstruction thus has some extra pins available, which would explain several observations of hardware interHacktions using USB-C.
| Pin Name | Pin Number | Usage | Comment |
| --- | --- | --- | --- |
| SBU1 | A8 | SWDIO (GPIO) | Primary use for SWD. Firmware can reconfigure to GPIO |
| SBU2 | B8 | SWCLK (GPIO) | Primary use for SWD. Firmware can reconfigure to GPIO |
| RX1+ | B11 | ECG P | ECG P can be switched between this pin and the wristband via firmware |
| RX1- | B10 | ECG N | |
| TX1+ | A2 | ECG COM | ECG common mode buffer output. |
| TX1- | A3 | - | |
| RX2+ | A11 | UART RX | |
| RX2- | A10 | UART TX (via Diode) | The diode protects USB tranceivers |
| TX2+ | B2 | Reset | Pull low to trigger a reset |
| TX2- | B3 | - | |
Schematics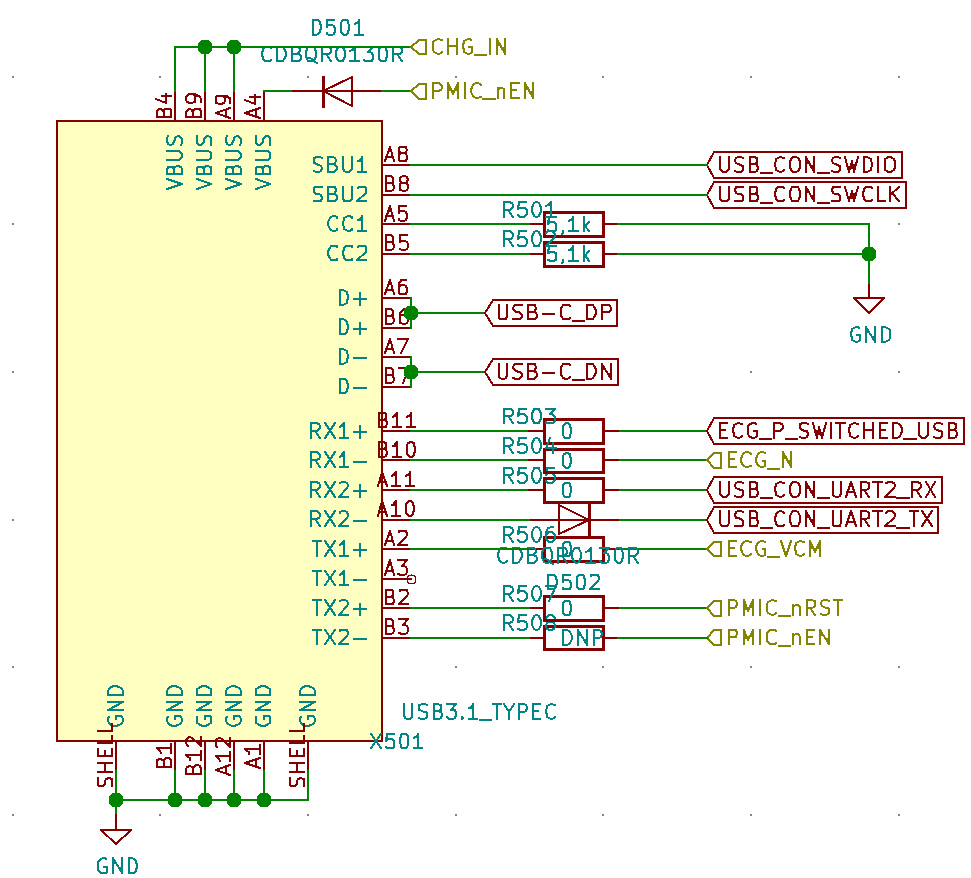 !Caution! Most USB-C cables available for sale do not connect all pins of the connector. Whilst this is not a problem for general use, if you want to access the full available I/O contacts, it might be best to choose a cable from the suggestions listed at the bottom of the page.
To use full I/O, there is a 'correct side up' for the USB-C cable.
SWD
UART
ECG
External ECG electrodes can be connected via USB-C with a self-made cable.
GPIOs
'Confirmed' full pin cable options
Whilst this list does not guarantee you anything, these cables have been bought before and were found to have all contacts connected: